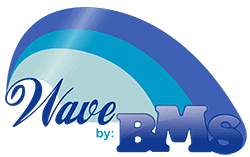 Wave by BMS
Our Complete Business System
Our Wave program offers a complete customizable business package
Integrated Software Modules
Every sale contributes to the bottom line, so it's vitally important to handle each sale efficiently
At your counter, things move quickly. That's why BMS is designed to make the selling process easier and more efficient. Wave by BMS is structured in a logical, easy- to-follow format. Most transactions are handled on a single screen, so sales transactions can be rung up quickly, without error.
Inventory Control
Increase Your Sales and Reduce Inventory Investment at the Same Time
Wave by BMS includes a comprehensive inventory management system, with your distributor's entire catalog. You can quickly and easily add products as needed, and build your inventory files to directly reflect all products on hand and on order.
Suggested Ordering
Watch Your Cash Flow Improve Using Suggested Ordering
Because Wave by BMS was designed with the needs of hardware stores and lumber yards in mind, it includes a comprehensive Suggested Ordering module. This sub-system will provide you with the facts you need to make purchasing decisions- accurately and efficiently.
Purchasing System
Purchasing – The Key To Profitability
Having more of your fast sellers and less "dead stock" is your best business practice and the Wave by BMS Purchasing system helps you do just that.
Suggested ordering provides two different purchasing philosophies, keeping what you need in stock with an accurate item count and using the system generated order point and order quantity or using the "sold since" method that effectively gives you a replenishment order that you can fine tune to your needs. If you are a store owner that has the discipline to manage your item counts, the suggested ordering by order point (called min/max) can create a purchase order that will maximize your inventory investment with more of what you need when you need it- Just in time inventory!
Accounts Receivable
Take Control of Your Accounts to Free Up Valuable Cash for Your Business
Your receivables are one of your most valuable assets. Wave by BMS gives you the tools to generate accurate information about your charge customers and take control of valuable dollars tied up in accounts receivable.
With just a few keystrokes, you can view a complete accounting ledger for any customer.
Sales Analysis
Increase your ROI with powerful Sales Analysis reporting tracking sales growth
Wave by BMS stores every POS transaction for every customer in the database and the Sales Analysis reporting provides unlimited ways to review this information. The sales analysis reports give you a date range selection and a myriad of sort and total selections. The sales analysis by customer uses the POS data and the sales person assigned to the customer or the Sales Analysis by Department uses the salesperson that rang up the sale. Get detailed profitability accounting to the salesperson level for commission reporting.
We Love the Wave Program!
"We love the way that Wave tracks our inventory. We can easily download vendor invoices and price updates. We now have full control over our inventory and that is something I never thought would be possible!"
- Rick Woody
Best Software Support Ever!
"We really love the ability to search for past invoices, at point of sale, and find the exact information we are looking for!"
"The best thing about the Wave program and BMS as a company is that if we ever need to call, there is always someone there to answer the phone."
Jeannie - Edelmans Home Center
Easy and Fast
"To me, one of the best things about the BMS system is the tech support! While I do not call tech support often when I do the response is immediate! Someone always answers the phone and resolves what little issues we have. The Wave system is PACKED with features to make my work life easier!"
Pepper - Windmill Sprinkler