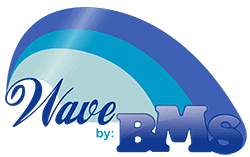 Wave by BMS
Our Complete Business System
Our Wave program offers a complete customizable business package
BMS provides a single source for everything you need with your computer. BMS helps you avoid the nightmare of having to contact several different companies to get the job done.
In addition to the hardware and necessary equipment and Wave by BMS software, BMS also provides, installation, training, support, equipment warranty, catalog loads, distributor interface, custom programming and even physically counting your stock and on-going supplies and forms. One company to manage the process, the same company to keep it working.
Business Management Systems is your complete answer for all your retail management needs.
We have hardware and software to cover all aspects of your business from inventory control and point of sale, to financial statements.
We Love the Wave Program!
"We love the way that Wave tracks our inventory. We can easily download vendor invoices and price updates. We now have full control over our inventory and that is something I never thought would be possible!"
- Rick Woody
Best Software Support Ever!
"We really love the ability to search for past invoices, at point of sale, and find the exact information we are looking for!"
"The best thing about the Wave program and BMS as a company is that if we ever need to call, there is always someone there to answer the phone."
Jeannie - Edelmans Home Center
Easy and Fast
"To me, one of the best things about the BMS system is the tech support! While I do not call tech support often when I do the response is immediate! Someone always answers the phone and resolves what little issues we have. The Wave system is PACKED with features to make my work life easier!"
Pepper - Windmill Sprinkler